Stainless steel Connecting system without welding. Easy assembly with just one tool.
Stainless steel assembly system (EMS)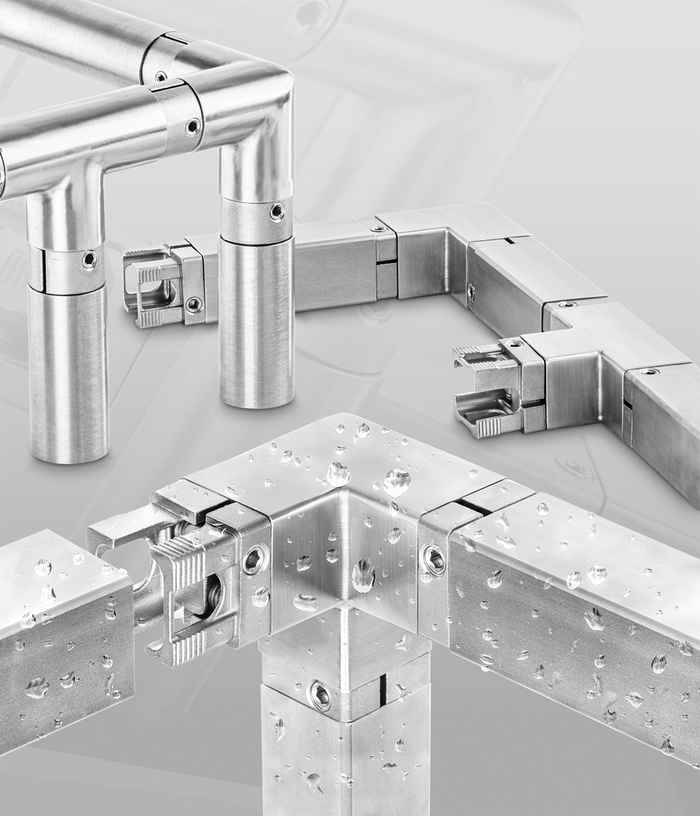 Stainless steel is the material standard for installations in clean rooms, for filling, packaging and conveying systems in the food industry and for all areas which are at risk from corrosion. As a specialist for niche products for these fields, we have now developed stainless steel connection elements which can be used in conjunction with special clamping technology to assemble and disassemble frame structures made from square or round tubing in the common size 40 quickly, reliably and without the need for specialist knowledge.
EMS stainless steel assembly system product benefits
Straightforward – assembly without the need for specialist knowledge, using just one tool
Quick – considerable time savings thanks to assembly of pre-fabricated modules without reworking
Flexible – easy to assemble/disassemble and reusable
Stable – high-strength internal clamping mechanism
Versatile – available for round tubing and square tubing
Available – all components in stock and available for delivery
With corrosion protection – all individual parts made of stainless steel
Sustainable – suitable for mono-material recycling
EMS YouTube »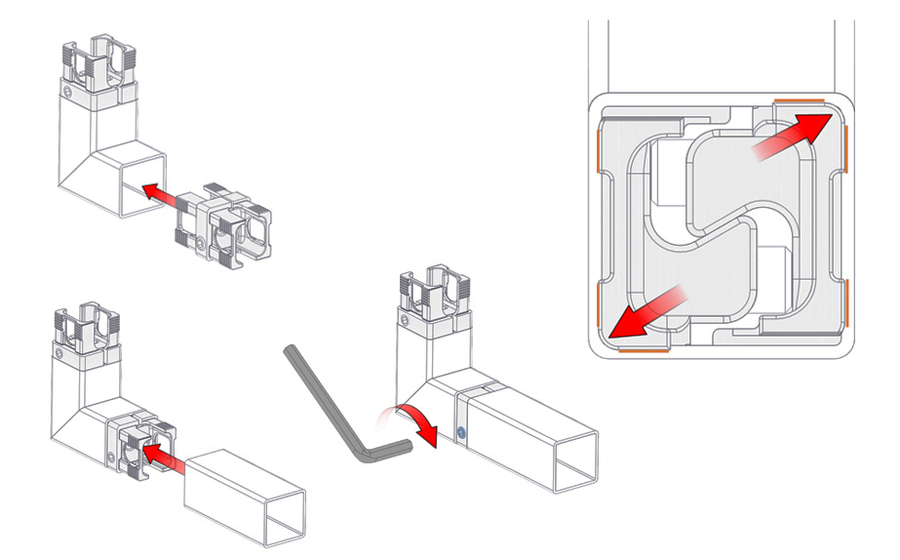 EMS – the alternative to welded connections
Stable stainless steel railings or frames are typically manufactured by welding the respective stainless steel tubes. This is an extraordinarily labour-intensive process; after all, the tubes for the corner connections first have to be cut precisely to size, then welded and subsequently ground smooth. Afterwards, the welded seam also has to be pickled to prevent corrosion. And, in order to ensure that the frame also meets the optical requirements, polishing the pickled welded seams is indispensable. As well as taking time, all of these working steps also generate a lot of dirt, require well qualified specialist welders and suitable safety devices.
Assembling quickly, reliably and without specialist knowledge
Wouldn't it be nice to be able to do without all this effort required for a welded connection? That's exactly what the EMS connection elements make possible. Thanks to the new clamping connectors, none of the above tasks are necessary any more. The customer receives fully machined connection elements, including innovative clamping technology which can be combined with cut-to-length stainless steel tubes to form any kind of frame or railing.
Five different basic elements
There are currently five different EMS elements available for delivery: corners, T connectors, cross connectors, 3-stream connectors and base elements with adjustable foot connection. In addition to the tapped hole – for screwing in the adjustable foot – the EMS base elements also have a second drilled hole which can be used to drain cleaning fluid. "Following the experiences with our ITAS system, we can certainly imagine expanding the EMS further too."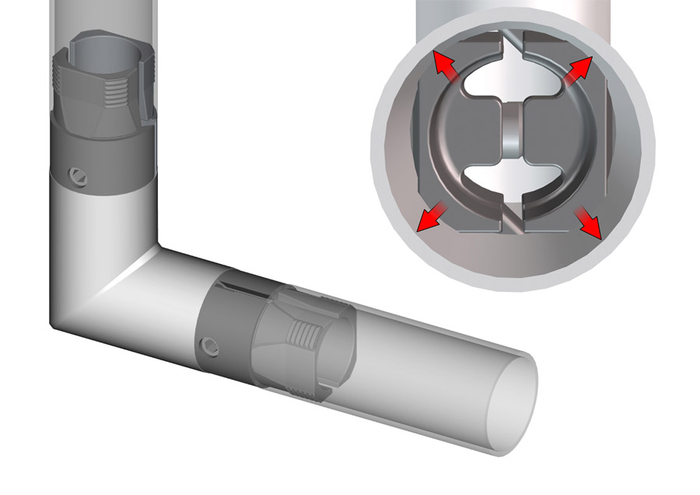 Connecting round pipes:
The connectors for round pipes consist of two half-shells that are braced in the pipe by tightening two Allen screws that press against each other. Ribs on the conically bevelled outer radius of the connectors are the first to press. Unlike conventional connectors, our EMS round connectors always have contact at four points in the pipe due to their special design. This prevents "tipping" and ensures a secure, centred all-round fit.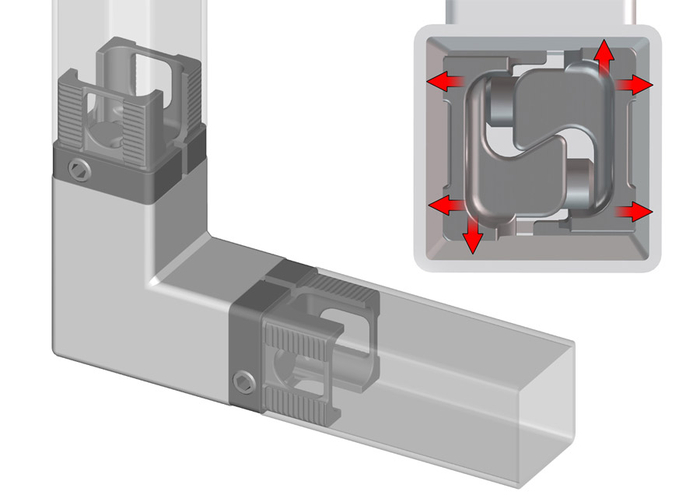 Connecting square tubes:
When connecting square tubes, the special design of the clamping connectors guarantees that uniform pressure is applied in all four directions. This ensures an integrated inclined plane through which the two half-shells interlock and thus stabilise. By spreading the half-shells diagonally with the help of two Allen screws, the geometry of the component creates six contact surfaces. This guarantees secure bracing.
A straight dimension of 23 millimetres for round tubes and twelve millimetres for square tubes was chosen for the distance between two tube sections. For design reasons, the distance between the round tubes is greater than that between the square tubes.